ALL THE WAY

is the First Book in THE LAND.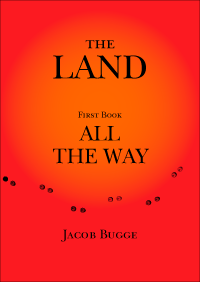 WHAT IS IT ABOUT?

A young man is fleeing on horseback, through a vast land with very different peoples and customs. The man and his tall white stallion are very close; they often barely escape the men in black clothes who pursue them; we know a little more why all the time, some of us solve the riddle before the end, some of us do not.

There is good and there is evil here. Many of the things that take place will challenge you to find out about your own values.
Most readers say that when they closed the book after the last chapter, there were tears in their eyes, and they wished so much they had the second book with them. And many have said that this is a fairy tale all right, but it is also an inner journey. They also say that it is a powerful book to read out, and share.

Little more can be said without telling what new readers should not know.
Read the first page on screen, or the first two chapters as PDF file (114 kB) to see how it all begins: the proof of the book is the reading.
You may read the corrigenda to the book to see an updated list of printing errors.
You may go back to The Land to read about the magic, the world, the narrative style, and all the details, hints, and riddles, of the tale.
This page is still under construction, and new pages are planned.
You may send us an with comments and questions.