THE DETAILS, HINTS, AND RIDDLES

Features of The Land
The tale includes inscriptions,

ONCE YOU READ THIS,
LEAVE NOW OR NEVER.



It includes songs,

A butterfly and a butterfly
Flutter by and by.
Waking slowly into spring,
Drinking sunlight wing by wing.

...& cetera...



It includes rhymes,

Three big leaves
Leave their trees.
They flock and they fly
And dance in the wind,
They drift and they whirl
And sink from the sky.

...& cetera...



It includes secret messages in runes with readings,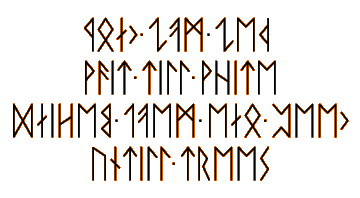 Oldfox unwrapped it and read out the message in a low voice: 'They may know; wait till white; keep one meal behind; until trees.' ...



And it includes a special kind of maps, showing everything from the very beginning, and eventually all the way.